Mary Lambert, the Seattle-based singer-songwriter whose 'she keeps me warm' refrain grounds Macklemore & Ryan Lewis's hugely successful song "Same Love," couldn't really believe she was about to perform at the Video Music Awards. " I still feel like I'm going to be at mom's to turn on the VMAs and watch whatever Kanye does," she told Billboard in an interview.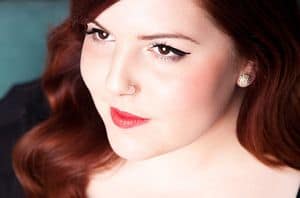 But this weekend, she did just that, joining her collaborators onstage and sharing an award for best music video with a social message.  Before her work on "Same Love," Lambert worked three day jobs, but these days she's touring with Macklemore & Ryan Lewis and keeping herself busy writing new songs.  With the duo's blessing, she expanded her "Same Love" hook into a full song, which was released as a single last month.
Now, "She Keeps Me Warm" has its own music video, which you can check out below.  Here are a few great excerpts from Lambert's interview with Billboard:
On writing "Same Love" with Macklemore and his writing partner Ryan Lewis: "For me, writing the song was a very personal endeavor. It's talking about my sexuality and my religion. To have that resonate with people — and not just on a wide scale, with the pushing of gay marriage — but on a very personal, real level, with people talking to me about their experience in church and their sexuality, that's where it really hits home to me. You're hearing these stories, and you know exactly what that person's gone through."
On her feelings about "Same Love" being chosen as the third radio single from "The Heist": "I was really apprehensive to hear it on the radio and see how people would respond.  This wasn't Washington state radio — this was national radio. It's such a wide audience that you don't know who's going to be listening to it. You don't know what people's belief systems are… I'm just kind of shocked that it's taken this entirely new life of its own."
On her inspiration for filming the "She Keeps Me Warm" video: "Two years ago, I did an extensive YouTube search for a mainstream music video that depicted a lesbian relationship. I was disappointed, shocked and a little hurt that I couldn't find a single one. Sure, there were hot girls rolling around in lingerie, girls briefly holding hands, or something involving a man. Lesbians were used as shock value. This video came to fruition with an all-queer female crew who shared my vision. It was an incredible experience."
Watch the clip, AFTER THE JUMP…
(photo courtesty of Deborah Spencer for Billboard)