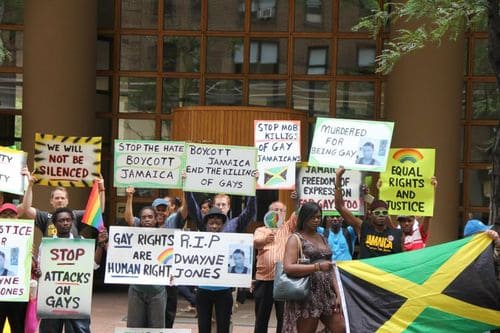 Activists will protest against Jamaica's anti-gay laws and the rising violence in Jamaica against LGBT people tomorrow in New York, when Prime Minister Simpson Miller addresses a UN Forum on Sustainable Transport and Road Safety at the Ford Foundation.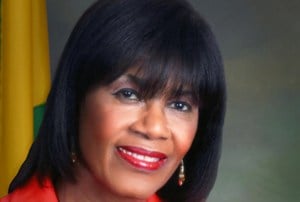 Information on the protest is here.
The protest follows another report of anti-gay violence in the country.
A 22-year-old Jamaican man barely escaped an attack in which he was stoned by an anti-gay mob in Newlands, St. Catherine, according to Maurice Tomlinson, a Jamaican LGBT activist who is featured in Micah Fink's powerful documentary An Abominable Crime.
Without warning, a mob of about 20 to 30 men began shouting, "Ketch di battyboy!" meaning catch the faggot.
"Kill the battyman!" they shouted. "Hol' him no mek him get 'way!" meaning, Kill the battyman; hold him, don't let him escape!
He began running for his life. Feeling three stones slamming into his back, he continued running until he couldn't see anyone or anything. "One stone left a scar on my upper back," he stated.
He escaped through a gully onto a football field out of the community of Newlands onto the Braeton Parkway Main Road where he got a taxi and headed home, 15 minutes away.
But "Medical attention may be needed as I am feeling back pains as well as chest pains," he explained. "Also, when the stones caught me as I was running that night I could taste blood in my saliva. But I am not in a position to afford the medical attention which is why I have not been to the doctor as yet."
Tomlinson said the man reported the attack to him because "he knew I was an advocate for the LGBT community."
More on Tomlinson's blog.
In recent weeks, Dean Moriah, a Jamaican man, was found murdered, and multiple instances of mob violence against LGBT people have been reported.