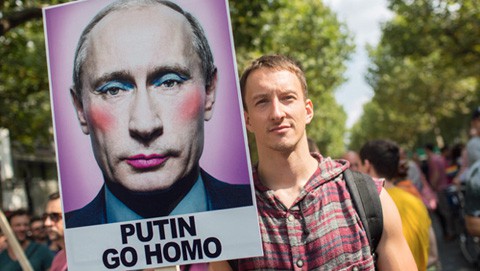 Approximately 5,000 people took to the streets of Berlin on Saturday to protest Russia's anti-gay laws, the HuffPost reports:
Organized by the Enough Is Enough group, the event was aimed at raising awareness of the human rights abuses taking place in Russia.
Many protesters at the afternoon event called for a boycott of the 2014 Winter Olympics in Sochi (scheduled to open Feb. 7, 2014). The march ended with a demonstration in front of the Russian Embassy on Berlin's Unter der Linden street, with the iconic Brandenburg Gate as a backdrop. Protesters held signs saying "Enough Is Enough," "Stop Homophobia" and "Putin Go Homo."
Demonstrators included people of all ages and seemed to receive positive responses from spectators.
Watch The Guardian's video of the event and interviews with protesters, AFTER THE JUMP…