A youth church volunteer at Wesleyan Church in Fredericton, New Brunswick, Canada was asked to leave the church because he's gay, the New Brunswick Beacon reports: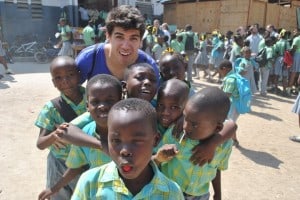 Colin Briggs, 20, has volunteered at the church since 2011. He also worked as a camp counselor for two years. During his last year of high school in 2011, he joined a mission to Haiti.
Pastor Mark Brewer asked Briggs to stop by the church on September 18 for a meeting. The youth pastor, Nathalie Estey, was also present.
To his shock, they asked Briggs to stop his volunteer activities. They said he was welcome to continue attending church services.
"We felt it would be in the best interest of him and the church if he stopped serving," said Brewer. This would "avoid any potential uproar that may be caused if families were to find out an openly gay male was working in the children's ministry."
The pastor added: "Having an openly gay male working in the children's ministry may cause some parents to feel uncomfortable."