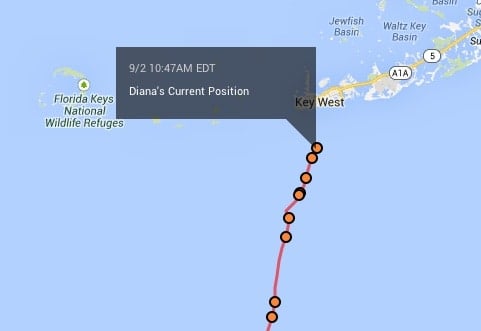 Diana Nyad is nearing Key West, in the last stretch of a record-breaking Havana, Cuba to Florida swim without a shark cage, ABC News reports:
Nyad, 64, is in the midst of her fifth attempt to make the treacherous swim. It's her fourth attempt in the last three years. The Los Angeles native left Marina Hemingway in Cuba on Aug. 31 at 8:59 a.m.
"Diana is on course to swim 112 statute miles. This is 35 more miles than anyone has ever swam," navigator John Bartlett said early this morning on Nyad's website.
Nyad could reach the Florida Keys as early as 4 p.m., her team said.
As of 4 a.m., her team tweeted that she was less than 10 miles away from Florida. It's the closest Nyad has come to Florida in any of her five attempts.
Nyad has been attempting to make the swim for 35 years.
Follow Nyad's position here.
UPDATE: And, she did it.