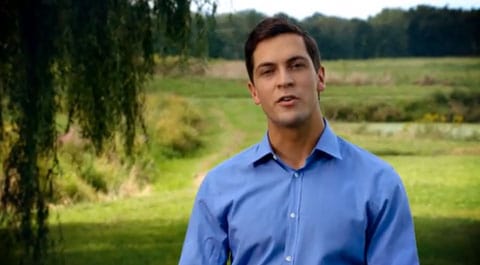 Sean Eldridge, the former political director at Freedom to Marry and husband of Facebook co-founder Chris Hughes, who filed papers back in February to run for Congress from upstate New York, last night unveiled an ad announcing his campaign along with a website.
The campaign announcement has been preceded, in July, by a pointed profile in The New York Times of Eldridge and Hughes entitled, "Young, Rich and Relocating Yet Again in Hunt for Political Office." That article thrilled Republicans who believed the profile only furthered a narrative about Eldridge they're trying to make stick, wrote our Sean Mandell.
The Times Union adds:
He's worked to raise his business profile in recent months, and Republicans, sensing his ambition, have already rushed to paint him as a rich carpet-bagger.
While Eldridge has yet to be officially endorsed by the Democratic Congressional Campaign Committee, DCCC spokesperson Emily Bittner came to Eldridge's defense:
"While a lot of people talk about the needs to create jobs, Sean Eldridge has actually been doing it, investing in small businesses throughout the Hudson Valley and helping them to expand and create jobs. Sean also has a strong record promoting environmental protection and civil rights throughout New York. While some folks work tirelessly to protect tax breaks for billionaires and corporate special interests, Sean has been working to grow small businesses and fight for middle class families."
Those issues are at the forefront of Eldridge's new ad. Buzzfeed points out that what's not there is any mention of his LGBT work or the details that he's gay and married to Hughes. Eldridge's website does mention his support for marriage equality in his online bio and in the issues section of his website.
The race will be instantly competitive because of Eldridge's personal wealth: Eldridge married Facebook co-founder Chris Hughes last year, and has already invested $215,000 in his campaign. The 19th District covers the mid-Hudson Valley and Catskills, as well as parts of Rensselaer and Montgomery counties, and broke for Barack Obama in 2012 even as [Eldridge's opponent Chris Gibson, R-Kinderhook] won a solid re-election.
Eldridge is the only Democrat running.
Watch Eldridge's campaign announcement, AFTER THE JUMP…