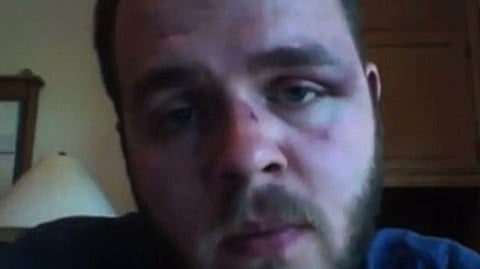 Jared Fox was attacked on Saturday night outside the Cocktails Lounge in the area of West 93rd Street and Detroit Avenue by a group of people he says taunted him with homophobic slurs and demanded money, ABC5 reports:
Cleveland police said they received four calls about a group of males disturbing the area and assaulting a customer at Cocktails Lounge.
"Last night I was the victim of a hate crime. I was walking into a bar on Detroit Avenue in Cleveland. I was walking from my parked car. I got out and I saw a group of youth on the side of the street,"  Jared Fox said in a YouTube video.
"Instincts and my experience with youth was that kids in a large group just aren't up any good."
"They started to just charge and they surrounded me," Fox said. He said they asked for him money and used anti-gay slurs. "They thought I was an easy target."
"They just started beating me," Fox said. "They punched my glasses into my face and sliced it right there" he said while pointing to the cut on his nose. He said he also suffered a ruptured eardrum. "They stomped on me, my back, my ribs while I was on the ground."
Fox says one of them asked him, "Do you want to die?" He says he begged someone driving by in a car for help but the car drove away. He also pounded on the doors of nearby houses.
Watch ABC5's report and Fox's YouTube video, AFTER THE JUMP…