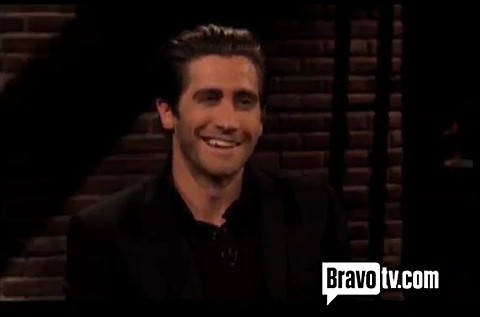 On an episode of Inside the Actors Studio set to air at 8 pm on September 19, Jake Gyllenhaal addresses rumors that he's gay, and says he misses Heath Ledger every day.
Bravo writes:
"Heath and I knew each other for years before that because we had both auditioned for Moulin Rouge together," Gyllenhaal says. After experiencing Ledger's brash, loose sense of humor in person, "I remember thinking, 'I like this guy.' He's just like, super lovable," Gyllenhaal recalls. He later admits Ledger's death hit him extremely hard: "It felt like losing a family member, and it still does to this day."
Gyllenhaal also addresses the gay rumors that came following Brokeback, but he says he wasn't rattled. (That portion of the interview will be featured in the full episode.) In fact, "It's a huge compliment," he says. And as for what turns him on, Jake says his tastes are simple: "Tits and ass."
Watch a brief preview clip of the interview, AFTER THE JUMP…