The Huffington Post spoke to former NOM President Maggie Gallagher about Pope Francis' statement on gays this week.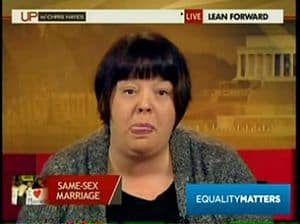 Pope Francis said that the Catholic Church had become too obsessed with gay marriage and abortion, and said it is wrong to "interfere spiritually in the life of a person" in reference to using religion against homosexuality.
Gallagher uses the Pope's statements to emphasize the persecution she says she has undergone as a "traditional marriage" crusader:
What I find most exhilarating about Pope Francis, is the possibility that we can reach out to those with whom we disagree without surrendering principle. I will say I have not found that true generally. I have found the gay rights community — the activists anyway, not the ordinary folk — is mostly asking for one thing: Agree, or be judged a hateful bigot.
But when you are in the fray of battle, it is easy to become fragile and to lose sight of possibilities. Maybe the pope can do things I cannot imagine. Imagine that!
Gallagher also says that if religious leaders move away from actively opposing same-sex marriage there will still be a case against it:
My case against same-sex marriage was always entirely secular. I believe we need a social institution that is about directing the passions of men and women attracted to the opposite sex — 98 percent of people — so that our sexual acts do not hurt the children our bodies create in passion. To me, that's the heart of "civil marriage" and the explanation for why the government is involved.
I don't see that changing. I hope I am wrong that gay marriage will change that as the public idea of marriage, but the evidence is pretty strong that I am right: It is very hard to see two men as a marriage, and still see marriage as integrally involved in procreation and family structure.
Would love for you to prove me wrong. I would love nothing more than to be wrong about this.
Full interview here.