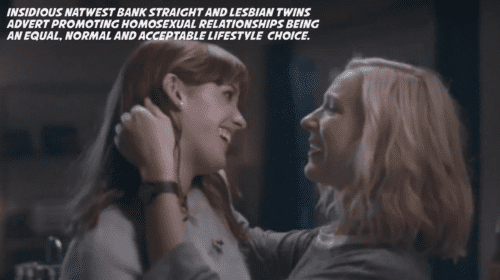 A new advertisement for British bank NatWest walks in the shoes of a pair of identical twin sisters. They may look the same, and NatWest may take care of both of their finances, but these two are different in a few ways. To start, one is gay and the other is straight.  
The video's appearance has been troubling to some, including YouTube user Gavin Rolph whose slightly-revised upload is embedded after the jump.  
Opposing Views reports:
A YouTube user who goes by the handle of "Gavin Rolph" uploaded the video (below) and slammed it as "Blatant NWO Homosexual Social Programming." The NWO apparently stands for "New World Order.
Rolph adds several of his own anti-gay derogatory comments in texts above the ad, notes GoodAsYou.org.
After declaring "The Media is of the Devil," Rolph added a strange clip that compares Prince William and President Obama to the actor who played the devil in "The Bible" miniseries.
Ironically, anti-gay proponents often use the example of identical twins who share the same DNA, but do not share the same sexual orientation, as proof that homosexuals are not "born gay."
However, it appears that Rolph missed his opportunity.
Sometimes cute, pleasant, and inoffensive just cannot be left alone. For those viewers uninterested in conspiracy theories, the advertisement proves to be a light-hearted and simple take on homosexuality. 
Watch the sisterly love, AFTER THE JUMP…