The Glass Menagerie opens on Broadway.
Audio: What it sounded like at the Met when the LGBT protest of Russia went down.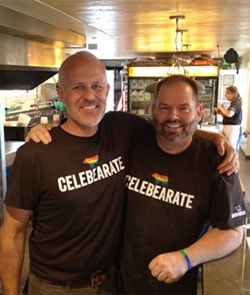 Washington's Orcas Island flies rainbow flag in solidarity with gay couple. "People really rallied to make sure whoever these folks were who thought they were living in 1950 in Wichita knew, 'No, you're living in 2013 on Orcas Island. And that kind of behavior is unacceptable.'"
Video: The best 'Best Man' toast of all time?
Carriage collapses on horse in midtown Manhattan traffic. "The horse was pinned briefly under the carriage, but managed to get up after a group of Good Samaritans helped lift the rig."
HRC: 5 pasta brands that support LGBT equality.
Nations commit to protect LGBT rights, combat discrimination at UN meeting: "Foreign ministers attending the meeting, held on the margins of the General Assembly's annual high-level debate, adopted a declaration pledging not just to protect LGBT rights but also to counter homophobic and transphobic attitudes in society at large, including through public education campaigns."
Yet two MORE teasers for American Horror Story: Coven.
Lea Michele shares a first look at Adam Lambert on Glee.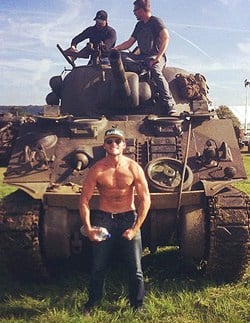 Try as he may, Scott Eastwood can't outflex a tank.
The NYT makes a visit to the ugly goings-on in Porterville, California, where the mayor was removed from office for issuing an LGBT Pride declaration: "The events in this small town stand as a reminder that at a time when many states are adopting same-sex marriage and other public support for gay rights has grown markedly, the issue is polarizing in many parts of the country. That is even the case in California, a state that, if increasingly Democratic, has a large swatch of deeply conservative regions."
Gay journalist headed to Sochi.
Gay rights activists in Serbia to hold first Pride march in three years: "Authorities in the former Yugoslav republic banned the march for the past two years after the 2010 violence, but face pressure from the West to allow this year's event ahead of the expected start of European Union accession talks in January." Update: Banned again.
Adele to play Dusty Springfield?
What Greg Sargent said.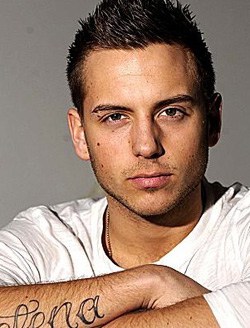 Gay footballer Anton Hysen: "I've had quite a few anonymous phone calls from players who want to come out but I don't know who they are or where they play. I hope that someone else will come out just like Robbie Rogers did. That was great for U.S. soccer. At last we're having a discussion about it and that's huge."
London gay bar denies entry to man with MS, then invites him back.
Young voters backing gay rights are a Republican hurdle: "Fifty-five percent of Americans and 7 out of 10 young people support allowing gay couples to marry. A majority of Republicans, 52 percent, oppose it."
Gay man sues NJ school district for after being wrongly accused of sexual abuse: "Vandergrift's nephew, a 12-year-old identified in court papers as D.V., suffers from autism, generalized anxiety disorder and a learning disability in math. Between 2010-12, D.V. was enrolled in public-educational programs at the Pennsauken School District, but he wasn't receiving a proper education, according to the suit. District officials allegedly failed to accept the child's autism, despite a diagnosis by three physicians. In August 2011, Vandergrift and his parents requested specialized autistic programming for the child. Instead of cooperating, district employees allegedly retaliated by accusing Vandergrift of inappropriately touching the child when trying to teach him how to shower."