Oman's government is suing the tabloid TheWeek after suspending it from publication following a story it ran about gays in Oman. According to Reuters, "It included a number of interviews with gay men and women, including Omanis and expatriates. One expatriate argued that it was not difficult to be homosexual in Oman compared to other conservative Gulf states."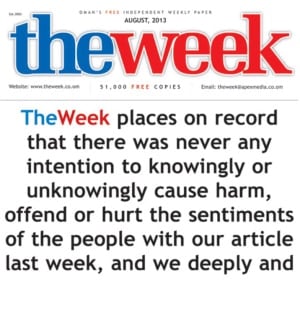 Oman's ministry of information charged the publisher with "harming society, its principles, religion, values, the dignity of its people or public manners through publishing what goes against media laws and regulations."
The BBC reported last week:
The article in question – which is now offline – traced the story of a young gay man in the country under the headline, The Outsiders. A member of the influential Shura Council, Tawfiq al-Lawati, tweeted that the article was advocating homosexuality and that it suggested Oman was a safe haven for gays.
He called for the information ministry to take action against the paper for breaking the country's press code. Mr Lawati's tweets received considerable support, although some Omanis countered that the article was simply documenting a truth about the country and it was the job of the press to reflect reality.
Now, the tabloid is being sued, Reuters adds:
TheWeek's publisher Saleh Zakwani said the Ministry of Information had told him not to publish the Sept. 5 issue, but it was not clear how long the suspension was for…
Saleh said he had no details of the lawsuit, which was filed by the ministry against the editor-in-chief, Sameer Zakwani, and the article's author, who had not been named.
Last week, the newspaper published a front page apology, reading: "TheWeek places on record that there was never any intention to
knowingly or unknowingly cause harm, offend or hurt the sentiments of
the people."
The maximum penalty for homosexuality in Oman is three years in prison.