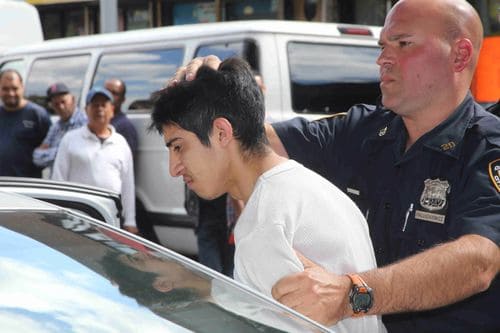 (image homicide 115 precinct via ny post)
Steven Torres, a 22-year-old Bronx man, has been charged with second-degree murder as a hate crime for stabbing 69-year-old Edward Orozco of Queens to death under the elevated 7 train subway station at 90th and Roosevelt in Queens at 1:30 pm on Monday. Initially it was thought that the motivation for the attack was the victim's cell phone, but NBC New York now reports that it was because the victim was gay.
Witnesses said the knife was nearly eight inches long.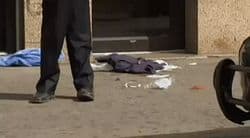 NBC New York reports:
A 22-year-old man is accused of stabbing a 69-year-old man to death on a Queens street because he thought he was gay, police said…
Orozco was stabbed near Roosevelt Avenue and 90th Street in Elmhurst as he was feeding a parking meter, witnesses said. Witnesses ran after Torres and held him for police until he was taken into custody.
"There was a lot of screaming, and all I could see was the guy was stabbing him — stabbing him and stabbing him," said Eddie De Jesus, who was in his locksmith shop on 90th Street when he heard the commotion. A law enforcement official initially told NBC 4 New York that Orozco was attacked over his cell phone.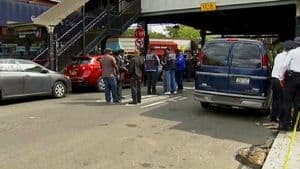 The NY Daily News reports on what set Torres off:
"He (Torres) said the victim was blowing kisses to him. That's what set him off," a source said. "This is what he is claiming."
ABC News adds:
Police say Torres tried to run from the scene before they apprehended him. Torres reportedly struggled against his cuffs minutes after the brutal crime that left eyewitnesses speechless.
"I really don't know what to think," witness Julio Lobaton said. "I'm just shaken because what happen to this poor guy…He was screaming, 'Help me help me.' I tried to intervene, but then he pulled a knife and started stabbing the guy on the floor. Then he went up about three steps came back."
Torres led Good Samaritans on a chase through the neighborhood before police caught up to him. The assailant reportedly said nothing as he brutalized his victim, but laughed when he was finally caught.
"He was laughing, yes," Lobaton said. "He was laughing like nothing," Lobaton said.
Watch an initial NBC News report on the attack which hasn't been updated with the hate crime information, AFTER THE JUMP…