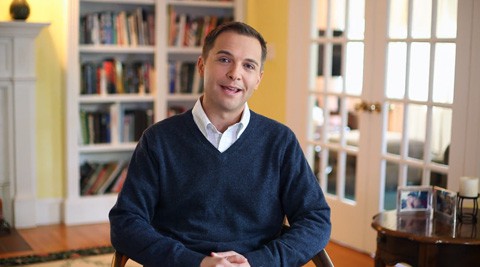 Carl Sciortino Jr. recalls coming out to his father in a new ad, but the gay candidate isn't remembering the time he said 'I'm gay'. Sexuality isn't the issue. Instead, he's remembering when he revealed his positions on gun control, abortion rights, tax reform, pay equity, and equality for All Americans, positions which his Tea Party-aligned dad, wasn't and isn't ready to accept.
Says Sciortino, who's running to succeed Ed Markey in the MA-05 special House election:
"My father and I disagree on just about everything. I am grateful that he was willing to appear in my TV ad even though he probably thinks he should be running against me."
Responds, Carl Sr.:
"My son is a Massachusetts Liberal and, what's worse, he's proud of it. But I love him anyway."
Sciortino has been a four-term state representative and has taken strong and early positions against the use of military force in Syrian and has passed landmark legislation establishing a 35-foot buffer zone at abortion clinics to protect women from harassment. His ad is set to run throughout the district on Wednesday.
Watch, AFTER THE JUMP…