BY NAVEEN KUMAR
Stylish pyrotechnics, cinematic scoring, and heavy make-out
sessions don't much compensate for the lack of passion (and often, sense) in
director David Leveaux's uneven production of Romeo and Juliet, which opened on Broadway last week at the Richard
Rodgers Theatre.
Starring film heartthrob Orlando Bloom as a not-so-young Romeo and two-time
Tony nominee Condola Rashad as Juliet, Leveaux's production separates the
Montague and Capulet families along racial lines.  But, aside from familial differences already
evident in Shakespeare's text—the young (in this case, black) Capulet men have
hotter tempers, while their (white) Montague rivals are more into homosocial
antics—the production has nothing particularly interesting to say about race or
racial politics.
The show's biggest marquis draw also happens to be its
greatest weakness. From the moment he rides on stage on a motorcycle and
removes his helmet to star applause (as clumsy an entrance as it is derivative
of Baz Luhrman's ubiquitous 90s film), Bloom struggles with Shakespeare's language
such that it often falls flat. Though he brings with him a certain star
quality (without making sense of the play's poetry), building a character and
forming chemistry with others proves difficult.
Ms. Rashad's wide-eyed Juliet has an emotional transparency
that is by contrast refreshing and endearing, particularly in a wonderfully
played balcony scene. It's a quality that sometimes works against her when the
action turns to matters of life or death, though the production rarely succeeds
in raising the stakes quite that high.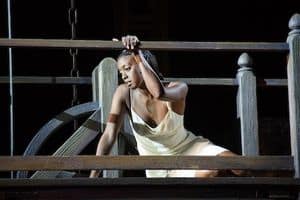 As for that heavy make out session—it dominates the lovers'
first meeting, eating up more stage time than their rushed poetic exchange and
setting the tone for a relationship that feels more like an ill-advised
one-night stand than a tale of star-crossed love. Stage combat that seems more
like dance than the result of blind rage likewise keeps the emotional stakes
simmering on low.   
With the surprising exception of Brent Carver, whose
innocuous Friar Laurence makes it tempting to let fate off the hook and pin the
blame on him, the rest of the company is mostly quite strong. Highlights
include Roslyn Ruff's visceral performance as an equally icy and emotional Lady
Capulet, and Jayne Houdyshell's delightful and down-to-earth turn as Juliet's
Nurse. Christian Camargo's Mick Jagger Mercutio fits well with the production's
vaguely rock-n-roll aesthetic, though at times he seems to be rushing through
some of his best material.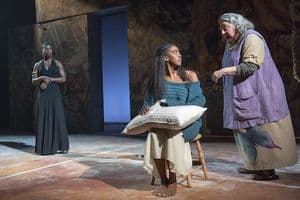 Perhaps because the rival families are distinguished by
their skin color, costumes in drab, muted colors by Fabio Toblini are worn by
all, in various 90s silhouettes. A larger than life pre-Renaissance Italian style
fresco occupies the wall of Jesse Poleshuck's otherwise simple set, which is at
times unfortunately the most compelling thing to look at on stage.  
Recent theatre features…
 Ethan Coen's 'Women or Nothing' Opens Off Broadway: REVIEW
 New Musical 'First Date' Opens on Broadway: REVIEW
'Harbor' with Randy Harrison Opens Off Broadway: REVIEW
 'A Kid Like Jake' Opens Off Broadway at LCT3: REVIEW
2013 Tony Awards Round-Up: Drag Queens, Pioneer Women, and Mike Tyson
 
Follow Naveen Kumar on Twitter: @Mr_NaveenKumar (photos:carol rosegg, richard termine)