A student at the University of Central Missouri in Warrensburg received a letter of discipline from the school for reporting that his roommate threatened him with a knife because he's gay, Fox4 Kansas City reports: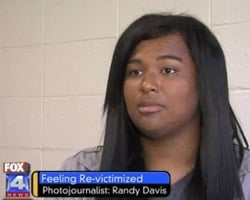 18-year-old Alex Worthley of Sedalia said his dormitory roommate threatened him with a knife because the other student didn't like having a gay roommate.
"He was like, 'I do have a knife and I'll use it if I have to,'" said Worthley.
Worthley told FOX 4 that at one point he asked the roommate to turn down his music.
"And that's when he repeated that and he was like 'I don't like gay people,'" Worthley said.
Worthley said he reported the threat to the Office of Student Housing. An investigator agreed to put the two students in separate dorm rooms, but Worthley said he was shocked when he received a letter of discipline just like his accuser.
"Made it feel like because I'm gay that it was my fault that those threats were made," said Worthley.
In the letter, the school blamed Worthley for being threatened:
"There seems to be a strong possibility that some of your own actions and comments were part of the reason this situation escalated from jesting to threatening."
Worthley said the problem could have been solved before it even began by not putting the students together. Worthley said his roommate told school officials that he didn't want a gay roommate but the school says it "does not make room assignments or reassignments based upon sexual orientation, race or other university protected status."
It also won't comment to the news about the incident.
Watch FOX4's news report here.