Back in July we reported that Senator Marco Rubio (R-FL) was holding up the confirmation of Judge William Thomas to the Federal District Court for the Southern
District of Florida. Thomas serves on the Miami Dade Circuit and was
nominated more than 10 months ago.
Rubio has now withdrawn his support for Obama's nomination.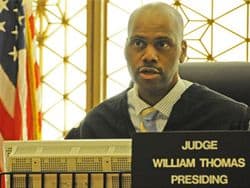 Rubio says he withdrew his support because of actions in two criminal cases, and without that support the nomination is dead. Florida's other Senator, Bill Nelson, has given his full approval. Supporters of Thomas believe Rubio is blocking the nomination for political reasons, the NYT reports:
"As much as I would like to think that politics has nothing to do with this, it looks as if it does," said Yolanda Strader, president of Miami's largest association for black lawyers, who called Judge Thomas one of the hardest working on the bench. "It would be unfair to prevent a well-qualified judicial nominee from proceeding with the nomination process because he is an openly gay black male."
Ms. Strader said the group has started an information campaign on social media and is considering an online petition to help move the nomination forward.
The paper adds:
The Congressional Black Caucus has been critical of Republicans in Congress who are holding up judicial nominations, including for a number of black judges. The group said that out of 787 federal positions, only 95 are held by black judges.
"That is a slender reed for Senator Rubio to hang this on," said Representative Alcee Hastings, Democrat of Florida, referring to the two court cases. "Decisions in this country need to be made by females and Latinos and Asians and blacks."
In related news, watch for the confirmation of Todd Hughes to the Federal Circuit later today. If confirmed, he would be the first openly gay circuit judge in history.