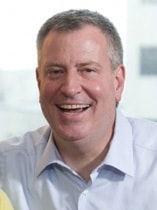 A news conference has been scheduled for 11 am this morning at City Hall following nearly a week of posturing over ballot-counting by William Thompson, the NYT reports:
Mr. Thompson, a Democrat, will endorse his rival, Bill de Blasio, after making the announcement, these people said. Mr. de Blasio is leading in votes counted thus far from last week's mayoral primary, with a little more than 40 percent of the vote.
Thousands of ballots remain uncounted, with many of them to be tallied today. But Mr. Thompson realized, those close to him said, that even if he were to qualify for a runoff against Mr. de Blasio, his chances of victory were slim.