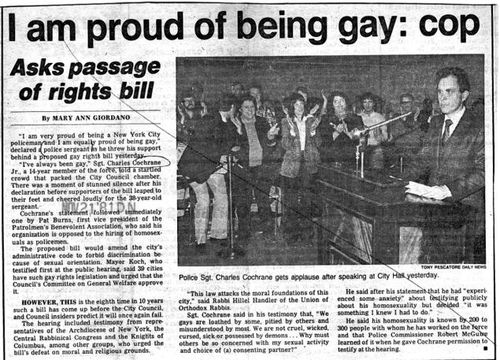 A New York Community Board is expected to vote to rename a block in Greenwich Village – Washington Place, between Grove St. and 6th Ave – after Sergeant Charles H. Cochrane, who came out of the closet in a City Council meeting in 1981 when he testified in support of a gay rights bill, the NY Daily News reports.
"I am very proud of being a New York City policeman," Cochrane said. "And I'm equally proud of being gay."
A 14-year veteran assigned to the Manhattan South Task Force, Cochrane testified that gays were "not cruel, wicked, cursed, sick or possessed by demons."
Cochrane had testified moments after a police official claimed he knew no gay cops.
Cochrane's coming out inspired the formation of Gay Officers Action League, or GOAL. The street to be honored was chosen because it's the home of St. Joseph's Roman Catholic Church, where GOAL meetings were held, the paper adds, and was also the target of bomb threats after Cochrane came out.
Cochrane died of cancer in 2008, at age 68. His sister has promised to come to NYC from her home in Illinois for the street-naming ceremony.