Courtney Schmelling and Sr. Airman Natalie Throckmorton married on August 28 in New Mexico, which sits in bureaucratic limbo over state law recognizing same-sex marriage. As you know, eight counties equaling more than half the state's population have begun issuing marriage licenses to same-sex couples.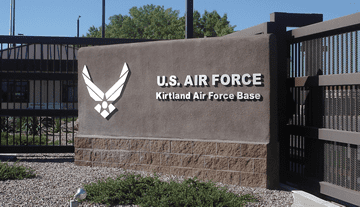 Now, at least one U.S. military base has begun recognizing those marriages, Buzzfeed reports.
After initially being told 'no', she could not have a spousal military ID card based on her marriage in New Mexico because it was "not one of the states that have statewide legislative or judicial decisions allowing for same-sex couples to marry,"  Schmelling said that officials at Kirtland Air Force Base in Albuquerque changed their position and gave her the card.
Buzzfeed was provided an email by the American Military Partners Association confirmed the change:
"Effective Sept. 3, the Secretary of Defense announced that all military departments will extend benefits to same-sex spouses of military members and retirees. On Sept. 5, military members and their same-sex spouses came into the 377th Force Support Squadron at Kirtland Air Force Base with marriage certificates issued in New Mexico. Because civil authorities in New Mexico have only recently begun to issue marriage licenses to same-sex couples, the guidance in hand for Department of Defense identification cards didn't address jurisdictions in New Mexico. The issue of those ID cards was delayed while Air Force officials sought clarification," spokeswoman Meredith Mingledorff wrote.
"Based on information received Sept. 6 from Headquarters Air Force Personnel Center on jurisdictions not covered in previous guidance, officials at Kirtland are issuing dependent ID cards to same-sex spouses of military members and retirees with valid marriage certificates from jurisdictions within New Mexico," she continued.