The AP notes that a massive case between two rival pharmaceutical companies is headed to court today, but the focus is not on the substance of the case, but on the sexuality of a juror: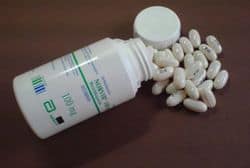 The case before the 9th U.S. Circuit Court of Appeals in San Francisco on Wednesday centers on whether Abbott Laboratories broke antitrust laws when it increased the price of its popular and vital AIDS drug Norvir by 400 percent in 2007. But broader public attention likely will be given to the three-judge panel's look at whether Abbott wrongfully removed a juror in the case brought by competitor SmithKlineBeecham.
The cost increase angered many in the gay community. SmithKlineBeecham, meanwhile, claims it was meant to harm the launch of its new AIDS treatment, which requires use of Norvit. And the company contends "Juror B" was removed simply because he was gay.
"It's a big deal," said Vik Amar, University of California, Davis professor. "The headlines from this case are going to be about antitrust law — it will be about sexual orientation in the jury pool."