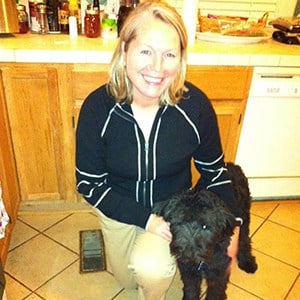 Tippi McCullough has taught English at Mount St. Mary Academy in Arkansas for the past fifteen years. Unfortunately, her employment was terminated this week after she married her partner of fourteen years, Barb Mariani. As The Arkansas Times reports, earlier this week the couple travelled to New Mexico, where same-sex marriage licenses have been issued as of late, to officially tie the knot. However, only forty-five minutes after their ceremony was complete, McCullough received a phone call from a secretary at Mount St. Mary, "telling her she risked losing her job if she married." The secretary reportedly added, "that the school had learned of
the coming marriage through 'the diocese.'" As the couple drove to Arizona (they planned to honeymoon at the Grand Canyon), McCullough spoke with Mt. Saint Mary principal Diane Wolf, who informed her that she no longer had a job at the school:
"She told me she never thought the day would come, that I was a great
teacher and that she would give me a glowing recommendation if I
resigned," McCullough said. "She said her hands were tied when I signed a
legal document."
McCullough said a contract clause allows dismissal for a lifestyle
contrary to church teaching. She she asked Wolfe for an explanation of
how she'd violated that clause. "She said she wasn't going to get into a
theological discussion and there was nothing she could do."
McCullough will get 30 days severance pay and an opportunity to pick up
her things and arrange for COBRA continuing health insurance coverage.
She said she's not sure what her vocational future holds. She said she'd been encouraged by support from other teachers. She said,
too, that she was sure Wolfe knew of her long relationship with
Mariani.  They never discussed it explicitly, she said, but "she knew."
In their discussion yesterday, "I told her I thought it was unfair, that
I was being singled out for being gay." She said Wolfe told her the nun
who once headed the school had once escorted out an unmarried pregnant
teacher.
HRC President Chad Griffin, an Arkansas native, blasted the school's decision:
"To fire a beloved teacher simply because she is gay is morally
reprehensible…At
a moment when Pope Francis is urging the Catholic hierarchy to put
aside judgment and a decades-long campaign targeting devoted LGBT
Catholics, it's shameful that this school is ignoring that hopeful
message in favor of explicit and baseless discrimination."
The HRC has started a petition to show opposition to Mount St. Mary Academy's decision to fire McCullough. You can sign it HERE.
(Photo via Facebook)