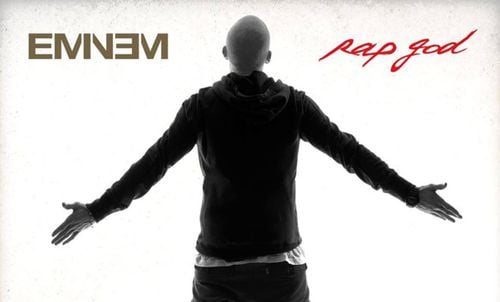 Scott Meslow at The Week wonders why the homophobic lyrics in Eminem's new single "Rap God" are being overlooked:
"Rap God" is Eminem's rapid-fire, six-minute anthem to himself, and it's peppered with brazenly and violently homophobic rhetoric. In the first verse, Eminem boasts of his ability to "break a motherf—-r's table over the back of a couple f-ggots and crack it in half." In the second verse, Eminem goes off on a bizarre, homophobic rant: "Little gay-looking boy / So gay I can barely say it with a straight face-looking boy / You witnessing massacre like you watching a church gathering taking place-looking boy / 'Oy vey, that boy's gay,' that's all they say looking-boy / You take a thumbs up, pat on the back, the way you go from your label every day-looking boy."
The song is bad enough — but even more disheartening has been the way that so many websites have praised Eminem's rapping on "Rap God" while ignoring the song's problematic lyrics entirely. Time called the single "divine." Rolling Stone analyzed the song's influences without commenting on its content. MTV News took the time to collect Eminem's array of pop-cultural references without noting his homophobia.
Listen to the track, AFTER THE JUMP…
What would Eminem say about the lyrics?
In 2010 he talked to Anderson Cooper about his lyrics on 60 Minutes:
Eminem explains that he's always heard the word, and that it's not necessarily tied to homosexuality, "That word was thrown around so much, you know? Faggot was, like, it was thrown around constantly, to each other, like in battling, you know what I mean?" he asked, before insisting that he doesn't hate gay people. "I don't have any problem with nobody, you know what I mean. Like, I'm just whatever." Asked whether he needs to take responsibility for his words, Eminem puts the onus on parents to censor their children's lives.
As for criticism that's he a homophobe, brought up most often by the gay group GLAAD? Eminem plays the victim: "I felt like I was being attacked," he said. "I was being singled out. And I felt like, is it because of the color of my skin? Is it because that, you're paying more attention? Is it because there's certain rappers that do and say the same things that I'm saying. And I don't hear no one saying anything about that. I didn't just invent saying offensive things."