Today is the March on Springfield, Illinois for marriage equality. There will be a livestream available for folks to watch starting at 11:45 am CT. Here is the link to the livestream.
Schedule for the livestream. Times are CT.

> 11:55 am — National Anthem

> 12:00 to 1 pm — Rock the March Concert

> 1 pm — Welcome by Governor Patrick Quinn and Senator Dick Durbin

> 1 pm to 2:30 pm — Rally with speakers from LGBT, labor, immigration, women's health, business, sports and faith communities.

> 2:30 pm — March begins, led by drummers and marching band.

> 2:30 to 3:30 pm — March around the Capitol

All times are estimates.

Today is the scheduled first day of the fall veto session of the Illinois state legislature. According to organizers the March on Springfield is part of a broad grassroots strategy to secure final passage of Senate Bill 10, the "Religious Freedom and Marriage Fairness Act," already approved by the Illinois Senate. Once adopted, Illinois will become the 15th state plus the District of Columbia, to treat all of its citizens equally under state marriage laws, and all married people in Illinois will be treated equally under federal law. Hashtags being used for the event include #IL4M and #ILCantWait. For more information, find the March on Facebook or on Twitter @IllinoisMarches .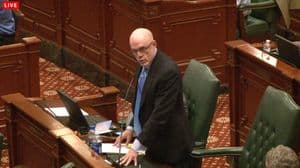 So what are the marriage equality bill's chances this time around? As the Chicago Tribune explains, that's still unclear:
Facing resistance from religious groups, advocates have lobbied clergy, particularly those in the African-American community where strong opposition to gay marriage remains. About a dozen clergy members gathered downtown Thursday to announce their support for the measure and "dispel the myth that African-Americans are fundamentally opposed to extending marriage freedoms to all."
"I cannot accept the notion that the guiding constellation of justice and inequality do not shine as brightly for gays and lesbians as they do for others," said the Rev. Jamie Frazier, pastor of the Lighthouse Church of Chicago.
Meanwhile, Harris, the bill's sponsor, declines to say how many lawmakers are prepared to vote for the bill. Though he and supporters insist they've been able to pick up "yes" votes, it's unclear if they have enough.
While Harris needed 60 votes in the spring, after May 31 that bar became 71. The threshold drops back to 60 after the new year or if the effective date is changed to next June. Activists are loath to wait any longer, even in the face of some political realities.
"It's the right time, and it's the right thing to do," said Harris, D-Chicago. "Momentum is in the direction of this vote."