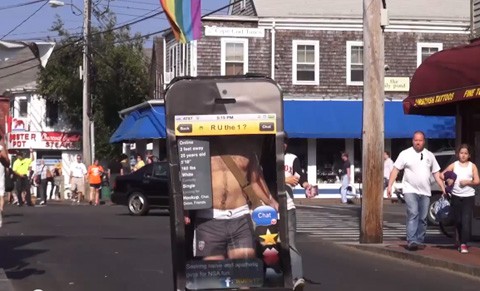 You see a lot of things wandering the streets of Provincetown, Massachusetts, but it's not so often that you see a giant Grindr app handing out test tubes of (fake) blood and semen.
Watch artist Tim McCarthy's project on HIV transmission, AFTER THE JUMP…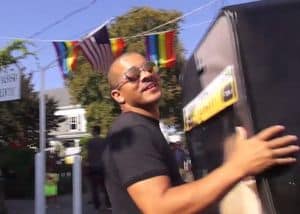 Said McCarthy, in a press release: "The concept is meant to be disturbing. We want to engage guys—especially young guys—in a conversation about HIV that seems to have lost momentum."

McCarthy adds that the video title and Grindr handle, 'R U the 1?', is intentionally equivocal: "Are you the one I'll spend a night with? The rest of my life with? Or the one who gives me HIV?"  He adds that the reverse label on his handouts includes information about the rise of HIV infections and the use of social apps for bareback sex. It also includes tips for making sex safer with online partners.

Added McCarthy: "The Internet and smartphones have changed gay culture and how we meet one another. There's no shame in meeting online for sex. But if guys knew about the prevalence of new HIV infections, they might do more to prevent its transmission."
Watch public reaction to McCarthy on the streets of Ptown, AFTER THE JUMP…
In related news, a recent study of over 1,300 gay and bisexual men in the New York City area who use Grindr revealed that 1 in 10 men on Grindr in NYC had never received an HIV test.
Further analysis showed that the proportion of older men getting tested for HIV was notably higher than that of the younger men, with 1 in 5 young MSM between the ages of 18-24 having never received an HIV test. Comparing these men to the overall population of NYC MSM indicated that a higher proportion of men onGrindr had never been tested for the disease (10% of Grindr users versus 2.6% of all NYC MSM).