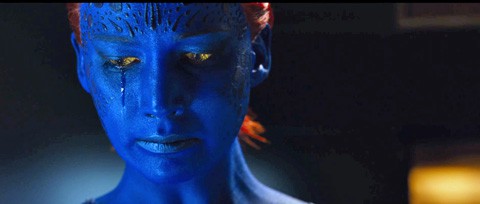 Director Bryan Singer spoke about the trailer with MTV News:
"I asked for something emotionally driven for this first piece, to just reintroduce characters and the stakes. It's got plenty of action and scope, but I think at it's core to remind audiences of the world, the stakes, and the characters, so it was nice to lead with a piece like this. To be honest, I was very fond of the 'Man of Steel' trailer. I felt really felt that it captivated the heart of that character. I wanted something similar to that."
Of Mystique, he says: "It's much, much closer, from the hairstyle to her agility. She hasn't quite become the cold assassin that Rebecca was, but she's headed on that course. It's much more closer to that character from 'X1' and 'X2,' from the innocent character that she was in 'First Class.'"
And of Wolverine: "I felt that enough had happened and that even Wolverine is getting a bit beaten down and haggard in this new world. I thought it would be appropriate to bring in the famous gray around the temples that he had in the comic. I really like that."
Watch, AFTER THE JUMP…