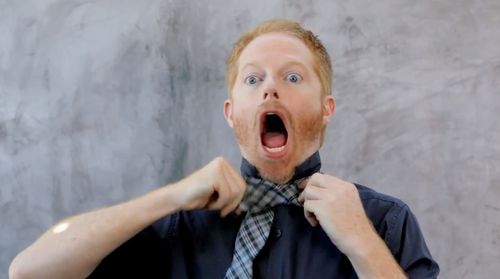 Jesse Tyler Ferguson, the Broadway veteran and "Modern Family" star, has been named the Celebrity Ambassador for the ACLU's Out for Freedom campaign. The campaign is aimed at promoting the adoption of marriage equality across the United States, and Ferguson's involvement in the Ambassador Project, "a new initiative that joins personalities from the worlds of film, television, music and comedy with ACLU priority issues," will help promote its values.
The press release reads:
"I worked with the ACLU and the New York Civil Liberties Union a lot when I was living in New York. I was always very invigorated by the passion and the drive and the vast knowledge they have," Ferguson said. "I learned so much just by working with them on policy and legislation and getting in touch with lawmakers and making my voice heard. I just felt like it was so important to keep that energy spinning. Having conversations with the people making our laws is so important, so I was really inspired to continue working with them. It just seemed like a no-brainer."
Ferguson is already making a difference. He and his husband Justin Mikita, traveled to Ferguson's home state of New Mexico in late September to rally people around the fight for the freedom to marry. Since then, the couple's non-profit Tie the Knot has made a grant of $10,000 to the ACLU of New Mexico to support its work on marriage for same-sex couples.
Other Ambassadors include comedian Lewis Black, musicians Cyndi Lauper, Melissa Etheridge, and Harry Belafonte, and television host W. Kamau Bell.
For more information about the Ambassador Project, head to the ACLU's website. To support Ferguson and Mikita's Tie the Knot campaign, head over here.
And check out a quick bowtie tutorial from the man himself, AFTER THE JUMP…