New York magazine has published a long interview with Supreme Court Justice Antonin Scalia in which he expounds on flogging, the notion that there are "intelligent reasons" to treat ment and women differently, his morning reading habits (the WSJ and Washington Times), the F-word, friending on Facebook, his favorite sparring partner on the bench, and his favorite TV show – which is Duck Dynasty (nuff said).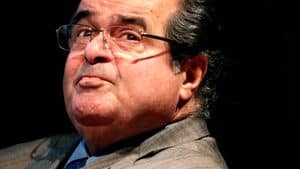 He also talked about the Pope and gays, and revealed that he might have gay friends, discussed what he wrote in Lawrence v. Texas, and Anthony Kennedy's legacy on gay rights.
Here's the gay part:
The one thing I did think, as [the Pope] said those somewhat welcoming things to gay men and women, is, Huh, this really does show how much our world has changed. I was wondering what kind of personal exposure you might have had to this sea change.
I have friends that I know, or very much suspect, are homosexual. Everybody does.
Have any of them come out to you?
No. No. Not that I know of.
Has your personal attitude softened some?
Toward what?
Homosexuality.
I don't think I've softened. I don't know what you mean by softened.
If you talk to your grandchildren, they have different opinions from you about this, right?
I don't know about my grandchildren. I know about my children. I don't think they and I differ very much. But I'm not a hater of homosexuals at all.
I still think it's Catholic teaching that it's wrong. Okay? But I don't hate the people that engage in it. In my legal opinions, all I've said is that I don't think the Constitution requires the people to adopt one view or the other.
There was something different about your DOMA opinion, I thought. It was really pungent, yes, but you seemed more focused on your colleagues' jurisprudence. You didn't talk about a gay lobby, or about the fact that people have the right to determine what they consider moral. In Lawrence v. Texas, you said Americans were within their rights in "protecting themselves and their families from a lifestyle that they believe to be immoral and destructive."
I would write that again. But that's not saying that I personally think it's destructive. Americans have a right to feel that way. They have a democratic right to do that, and if it is to change, it should change democratically, and not at the ukase of a Supreme Court.
The what?
U-K-A-S-E. Yeah. I think that's how you say it. It's a mandate. A decree.
Whatever you think of the opinion, Justice ­Kennedy is now the Thurgood Marshall of gay rights.
[Nods.]
I don't know how, by your lights, that's going to be regarded in 50 years.
I don't know either. And, frankly, I don't care. Maybe the world is spinning toward a wider acceptance of homosexual rights, and here's Scalia, standing athwart it. At least standing athwart it as a constitutional entitlement. But I have never been custodian of my legacy. When I'm dead and gone, I'll either be sublimely happy or terribly unhappy.
Read the full interview HERE.