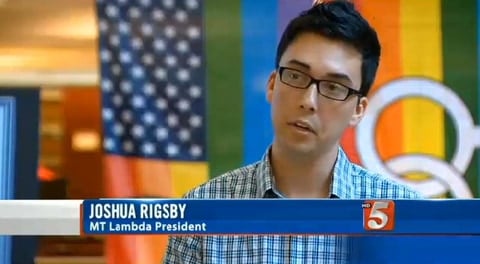 A flag on display at Middle Tennessee State University's campus in Murfreesboro is causing controversy. It's part of a display put together by the school's LGBT student group and resembles an American flag, but with gay rainbow stripes, WTVF reports:
"It's really caught us by surprise that this flag has caused so much controversy, because in essence it's not an American flag, it's symbolic of that," explained Joshua Rigsby, the group's president.
Some people feel the flag is disrespectful.
"This is just un-American and against the law. They removed red white and blue replaced with the rainbow," a NewsChannel 5 viewer wrote in an e-mail. Rigsby said the flag design has been around for decades, and he believes it does not break any laws.
"Desecrating an American flag would entail ripping, or shredding, or burning an actual 13 red and white strip American flag, and that's not what this is," Rigsby said.
Adding to the group's confusion, the flag is not new at MTSU.
"We've used this flag at many other events. We walk in homecoming with this flag every year and it is not something new," Rigsby said.
Watch, AFTER THE JUMP…