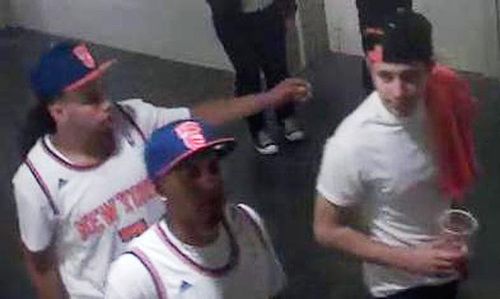 It took several months, but DNAinfo learned late last week that one of the men wanted in a May 2013 attack on a gay couple outside a Knicks game at Madison Square Garden was arrested and charged earlier this month.
Police released several photos and video surveillance records showing the suspects but it's unclear which of the men who appear in the images is the suspect named in the reports.
Martin Martinez, 25, was arrested Oct. 3 and charged with the May 5 attack on Nick Porto, 27, and Kevin Atkins, 22, following a Knicks game, according to court records. Martinez was hit with hate crime charges of attempted assault and aggravated harassment and was released on $1,500 cash bail, according to court records….
…Police are hoping that Martinez will help give up his accomplices, sources said, and that more arrests will come in the case.
Nick Porto and his partner Kevin Atkins were assaulted in the attack on Eightth Avenue between 34th and 35th street while the perpetrators called them "faggots". Atkins suffered a broken wrist in the attack. Porto's nose was broken.
Martinez and his lawyer are due back in court on December 2.