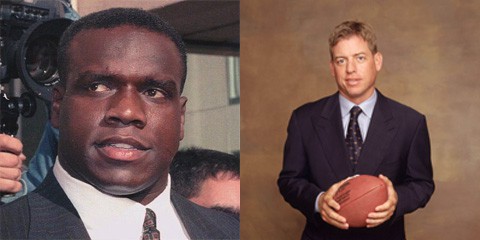 Former Redskins defensive end Dexter Manley was asked to immediately apologize after calling Troy Aikman "a queer" during a radio program on WTOP radio on Sunday, SI.com reports:
When asked by a host if Aikman's presence was bad luck for the Redskins, Manley said that he thought Aikman was a "queer." The WTOP hosts immediately insisted that Manley apologize on the air, which he did reluctantly after initially declining.
WTOP's Vice President of News and Programming Jim Farley, replying to a listener via Twitter, said the station was shocked and stunned and that Manley won't be making any more appearances after his over-the-top comments.
Listen (At about 3:20), AFTER THE JUMP…
Manley later made a statement:
In an interview with WTOP radio Monday, while intending to be funny, I used a slur to refer to Troy Aikman. It was wrong and insensitive. Anyone that knows me knows that's not who I am in my heart or mind. I want to apologize to Troy, but I mostly want to apologize to anyone else I offended. Like a lot of people in these times, I have to realize that what I thought was funny years ago doesn't work now. I'll do my best to make sure it doesn't happen again and hope you will accept my apology.
Rumors have circulated about Aikman for years, since former columnist now sports commentator Skip Bayless speculated in 1996 that then Dallas Cowboy Troy Aikman was gay. Bayless said in 2009 that he stands by his remarks.
Aikman said in 2011 that he didn't know what he might do if he ever saw Bayless, and suggested that he might use physical violence.
Listen to Manley's remarks (At about 3:20), AFTER THE JUMP…