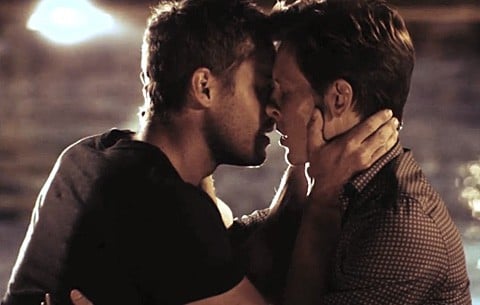 ABC's Revenge once again ended its episode this week by diving further into the intrigue between Justin Hartley (Patrick) and Gabriel Mann (Nolan). How far will they take it?
Watch the clip, AFTER THE JUMP…
Writes Hollywood Life:
Nolan and Patrick had one hot kiss in the last episode and Nolan was ready for more. When he went to talk to Patrick, Patrick confronted him about how he knew he was gay. Nolan attributed it to a "well-caliberated gay-dar," but Nolan didn't buy it. He found out that Nolan went to his ex-wife and paid her for information. Patrick said he doesn't play games and stomped off.
Later, Nolan told Patrick about his trust issues and admitted he screwed up by going behind his back. He asked for one more chance, if Patrick was willing to give one. Yes, please!
See last week's here.