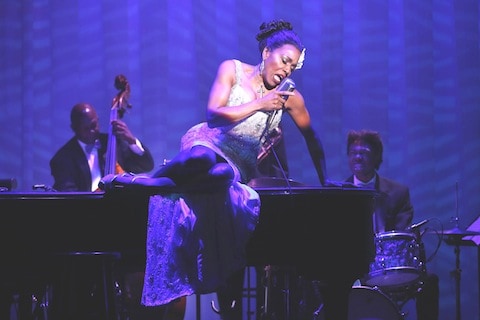 Lady Day
, the new
musical featuring a knockout vocal performance by Dee Dee Bridgewater singing
the music of Billie Holiday opened Off Broadway last week at the Little Shubert
Theatre. Though the production's buoyant jazz would undoubtedly be more at home
in a cabaret—rather than saddled with a cliché-ridden book by director Steven
Stahl—when Ms. Bridgewater opens her mouth to sing, it's tempting to forget about
everything else.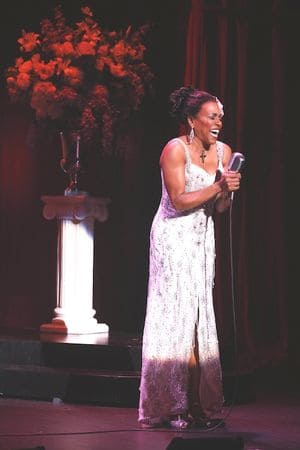 The show is set late in Holiday's career, on the opening
night of her London concert on the West End in 1954. Having lost her cabaret
card (necessary accreditation to perform in New York City clubs) due to drug
related criminal charges, Holiday has been touring Europe in the hopes that
winning popular acclaim abroad may help her chances of getting it back. 
Act one finds Holiday rehearsing on stage with her talented
band of musicians on the afternoon of her first London performance, the tour's
final stop. As if conscious of his strained effort to inflate what is
essentially a jazz medley into a stage musical, Stahl's book includes repeated
references to Billie's nerves about the size of the theatre.
Here is a creature of smoky, intimate jazz clubs, thrust up
into the spotlight where she feels distant and isolated from her audience.
Though Ms. Bridgewater is certainly up to the task of filling the (not so)
Little Shubert with her vocal performance, Stahl's writing doesn't quite do the
same when the music stops.
Between songs Billie falls into reminiscences of her painful
childhood. Alternately addressing no one in particular, unseen characters from
her past, and herself in the second person ('Billie, baby, remember that
time?'), she tells of her rape at the hands of a family neighbor, abandonment
by both parents, and painful racial prejudice she experienced in the Jim Crow
south. While they help reveal emotional scars behind her anguished voice, Billie's
stories in the first act unfold with little dramatic logic and only tenuous
connection to one another.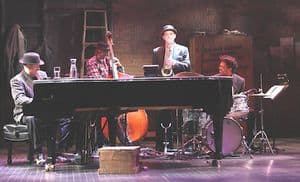 Act two more comfortably soars on the power of Ms.
Bridgewater's vocals, with Billie (however drunkenly) in her element—on stage
for her opening night and finally playing directly to the audience. Here
Billie's colorful stories are somewhat more thrilling—a legendary performer unraveling
and spilling her dirty secrets to a live audience, rather than to an empty
rehearsal room.
An acclaimed Grammy and Tony Award winning jazz
vocalist, Ms. Bridgewater brings Holiday's signature bluesy sound to life with a
captivating emotional precision. The on stage band, including Bill Jolly
(piano), James Cammack (bass), Jerome Jennings (drums), and Neil Johnson (sax)
all play wonderfully to match. When Lady Day hands the reins to its gifted musicians, they take command of the room—however out-sized it may be.
Recent theatre features…
Follow Naveen Kumar on Twitter: @Mr_NaveenKumar (photos: carol rosegg)