Mexican singer Larry Hernandez: "Yo no soy gay".

A cyber attack forced the closure of a major roadway in Israel.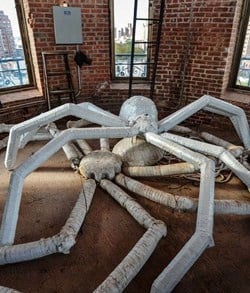 The Greenwich Village clock tower spider, not seen since 2009, is back this Halloween.

Yup. Paris Hilton was Miley Cyrus for Halloween.

Jennifer Saunders floats the idea of an AbFab film to end the series: "So many people have said, "We'd love to see it", and I think "Yeah but then it'll go wrong and everyone will hate me. That's where films fall down, when it's just a series of sketches."
B

ill De Blasio's wife and former lesbian Chirlane McCray will be "activist" First Lady if he's elected.

The NYT explores Gawker's outing of Shepard Smith: "The frisson of the Gawker tidbit was supposed to derive from the contextual equation — Fox News + gay = hypocrisy — but the channel has hardly been of one voice on the issue and there is no indication that it has any special obsession with sexual orientation, like, say, Gawker."

Julian Hough is one of Halloween's biggest losers.

Adam Lambert is a baby blue sultan for Halloween.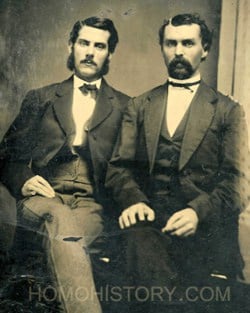 Vintage shots of male couples collected by Jeffrey Gent: "I started noticing vintage photos of male couples at the 26th St. Flea Market in NYC back in the '80s. I collected them for years and years, but during one of my many moves they were stored away and forgotten."

SPI Group says boycott of Stoli vodka had "minimal" impact: "Speaking to just-drinks, SPI's CMO Marco Ferrari said some US accounts stopped selling Stolichnaya but that the protest – a retaliation against anti-homosexual legislation in Russia – 'didn't really get any traction' in other markets. Most of the US accounts soon returned to serving the vodka, Ferrari said. "

South Mississippi gay bars find success by giving back to the community: "We are a viable resource, not just for the LGBT community but the entire community — period," Koval said. "As long as we can meet overhead, our goal is to give back to our community."

VIDEO: Very cool clip of a mass migration of birds setting down in a midwest neighborhood.

Male model fix: Dorian Reeves.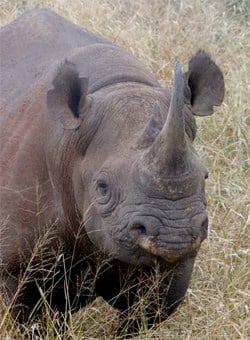 Dallas Safari Club says it plans to raise up to a million dollars for endangered black rhinos by auctioning off a permit to kill one in Namibia.

Sacramento binational gay couple's marriage among first to be federally recognized: "These guys are among the first to the be approved. The USCIS has really worked hard to get its guidelines out there after DOMA, and the first cases to get approved were really those under the gun facing deportation."

Here's the first trailer for The Immigrant starring Marion Cotillard, Joaquin Phoenix, and Jeremy Renner.

Is a barge in San Francisco harbor a floating retail outlet for Google Glass? "The Glass store theory popped up late Friday in a report from local CBS affiliate KPIX 5. Indeed, Google was building a giant barge just off Treasure Island, but instead of a data center, the network says it's 'a floating marketing center, a kind of giant Apple store, if you will.'"