Deep-fried Twinkie burger makes debut at Philadelphia restaurant.

Forbes: Vladimir Putin unseats Barack Obama as world's most powerful person.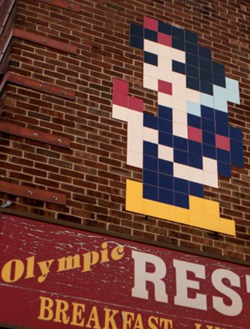 As Banksy departs, Invader arrives.

PHOTO: Matt Lauer dressed as Pamela Anderson from Baywatch for Halloween.

Germany becomes the second country, after Australia, to allow parents to leave gender blank on a child's birth certificate: "The European Union cited so-called intersex people in June for the first time in its antidiscrimination guidelines. A month later, Australia adopted guidelines saying people filling out any official forms should be able to choose male, female or 'X.'"

God Made You Beautiful, according to Beyoncé.

A plane crashed at the Nashville Airport and nobody noticed for hours. "The single-engine Cessna registered to the Windsor Flying Club in Ontario, Canada, evidently crashed sometime after 3 a.m. local time, according to the National Transportation Safety Board. But it wasn't noticed until well after sunrise when another plane taxiing for take-off saw an engine cover on the edge of runway 2C — the middle of three parallel runways."

Adam Lambert performs "Marry the Night" on Glee.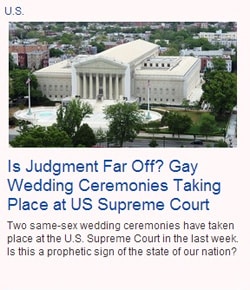 According to Charisma magazine, Judgment Day is approaching because Sandra Day O'Connor married a gay couple at the Supreme Court.

Jake Gyllenhaal on his worst audition: "I remember auditioning for The Lord of the Rings [the role of Frodo] and going in and not being told that I needed a British accent. I really do remember Peter Jackson saying to me, 'You know that you have to do this in a British accent?' We heard back it was literally one of the worst auditions."

Marriage equality bill introduced in Taiwan: " On October 25, Taiwan's 112-member legislature referred a 'marriage equality' bill of revisions to the Civil Code introduced by 23 lawmakers of the main opposition Democratic Progressive Party to the Judicial Affairs Committee for review and possible first reading. "

There's still magic happening in the last gay bar in Pasadena.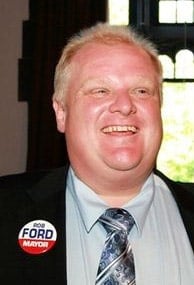 The Rob Ford crack tape is real and the police have it.

Virginia Lt. Governor candidate EW Jackson blatantly lies when questioned about anti-gay rhetoric: "During an interview with WUSA, he denied ever having said that gay people are 'sick' or that God will stop blessing the military over gay rights. He said that such direct quotes are 'absolutely, categorically not true.'"
T

om DeLay: "God created this nation and God created the Constitution."

Lambda Legal wins rehearing for gay Jamaican immigrant: "We are pleased that our brief helped the BIA overturn the Immigration Judge's ruling, which relied on stereotyped assumptions about the process of coming out and was unjust," Lambda Legal Senior Staff Attorney Thomas W. Ude, Jr. said. "Given the well-documented and high level of violence that LGB people face in Jamaica, a decision that fails to acknowledge this complexity virtually guarantees that LGB immigrants will be sent to very dangerous conditions. With this decision, Anthony can now go back before the Immigration Judge, to whom he has already submitted voluminous evidence that in Jamaica he would face torture for being gay. He is one step closer – a big step – to getting the protection that he needs."