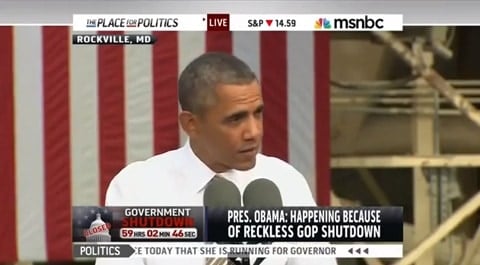 President Obama ripped House Republicans for the government shutdown at a speech in Rockville, Maryland on Thursday:
Everybody here just does their job, right? You know, if you're working here and in the middle of the day you just stopped and said, you know what? I want to get something, but I don't know — I don't know exactly what I'm going get, but — I'm just going to stop working until I get something– I'm going to shut down the whole plant until I get something. You'd get fired! Right?
On Friday, House Speaker John Boehner reacted to a quote about the shutdown in the Wall Street Journal, slamming the paper down, and yelling "This isn't some damn game!"
Watch both clips, AFTER THE JUMP…