Senator Rob Portman (R-OH) suggests he may evolve on ENDA and end up supporting it, Gannett reports: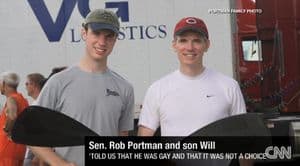 "The underlying part of the bill I agree with," Portman said, "but I'm still working on some of the religious liberty issues."
The legislation as currently drafted includes an exemption for churches and other religious associations. It would not apply to any "corporation, association, educational institution or institution of learning, or society that is exempt from the religious discrimination provisions" of the Civil Rights Act, according to the legislative text.
But Portman suggested that he's not completely satisfied with that language and he is working with the bill's chief sponsor, Sen. Jeff Merkley, D-Ore., to strengthen the exemption. Still, the Ohio Republican suggested his support for the measure does not hinge on changing the religious exemption.
"I am inclined to support it, anyway," he said.
Adds the news outlet: "Portman's possible 'yes' vote could be pivotal for the measure, which is currently just a few votes shy of the 60-vote threshold needed to defeat a GOP-led filibuster."
Portman, as you may recall, has a gay son who prompted the senator's reversal to support marriage equality.
The religious exemption, as we reported earlier today, has been met with skepticism by some LGBT groups. The activist group GetEQUAL released a statement today opposing the exemptions currently in the bill:
"While we are glad that ENDA will receive a vote in the Senate for the first time in almost 20 years, we are dismayed that the bill continues to excuse religious bigotry as acceptable under the law. Broad religious exemptions in the bill actually make it possible that institutions such as schools, hospitals, and universities can continue discriminating against LGBT employees and prospective employees.
We're calling on progressive champions in the Senate — including Senators Elizabeth Warren, Al Franken, Kirsten Gillibrand, and Sherrod Brown — to speak out against these exemptions, establishing a clear record that these exemptions are not necessary and are not acceptable in 2013."