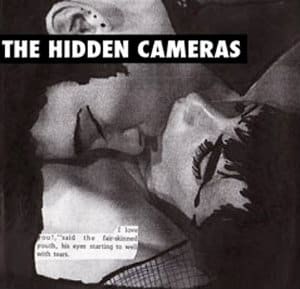 The band's website elaborates on the video's accolades:
"Gay Goth Scene" has already made the rounds at special screenings in Toronto, Los Angeles, Ogunquit and Tel Aviv with future screenings slated for Salento Finibus Tarrae in Italy, Queer Lisboa, Face a Face St. Etienne and Wiz Art in Lviv.
Good news, everyone! Kai Stänicke's short film for "Gay Goth Scene" has won the "Tadgell's Bluebell Honor Award", being named "Best Short Film About/For Youth" at the 16th Auburn International Film Festival for Children and Young Adults.
Their second and third albums — Mississauga Goddam and Awoo — weren't as pointedly sexual as their first, but they did still hit on queer sexual-political themes of neurotic bodily obsession ("I Need Another Enema"), the excitement of shared oral pleasure and growing up closeted in your own hometown.
Their last album (2009's Origin:Orphan) was inarguably their most orchestrally ambitious; using triumphant horns, choral arrangements and grand scores to explore devotion to emotionally-absent men and how whoredom complicates identity.
The Hidden Cameras — who have a penchant for performing in bombed-out churches, abandoned theaters and soccer fields — are currently touring. Gibb had wanted to turn Origin:Orphan into a theatrical production in Berlin where he lives, but it's unclear whether that ever happened.
The clip is now available stateside.