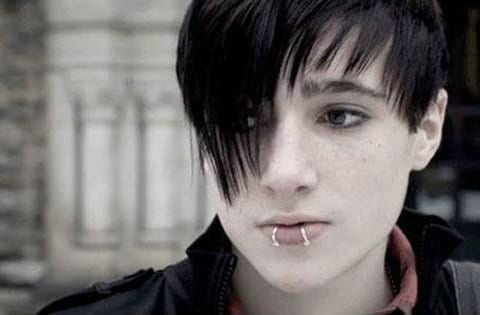 Four years after their last album Origin:Orphan, The Hidden Cameras — a Canadian band led by gay frontman Joel Gibb — has finally released a song and music video for a new single that they've reportedly played live since their first album. The song is entitled "Gay Goth Scene," and though you can only download it in Europe, you can watch a minute from the dramatic video here. The clip involves a gay emo kid getting beaten up.
The release of "Gay Goth Scene" concedes with the 10-year anniversary of The Hidden Cameras' transgressive premier album, The Smell of Our Own, in which they unabashedly rejoiced the religious ecstasies of being peed on, carrying another man's seed and gay sex — totally mandatory listening.
Exclaim explains more about the new single:
The single is called "Gay Goth Scene," and it's available to purchase on 7-inch. It comes backed with a four-track demo of the same song recorded in 2011. Interestingly, a product description notes that this will only be available in physical formats, so it's unlikely to leak onto the web just yet. The band have also been selling copies at recent shows.
Likewise, the song's music video has screened in various cities around the world but isn't available on the internet. It was shot in Berlin last winter by director Kai Stänicke.
In an interview with The Grid TO, the band described "Gay Goth Scene" like this: "The song is in a minor key with an apocalyptic ending; was inspired by the idea of youth and forbidden love; and describes a fictional 'scene' that only exists in the mind of the protagonist's paranoid parents. It's told from the perspective of a mother and father, chastising their teen son about his newfound romance.
The single comes from the band's forthcoming album, Age, which is due out this fall.
Read more AFTER THE JUMP…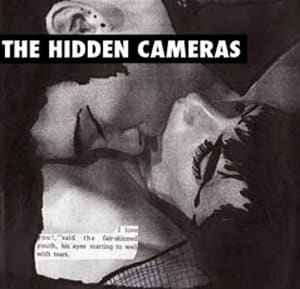 The band's website elaborates on the video's accolades:
"Gay Goth Scene" has already made the rounds at special screenings in Toronto, Los Angeles, Ogunquit and Tel Aviv with future screenings slated for Salento Finibus Tarrae in Italy, Queer Lisboa, Face a Face St. Etienne and Wiz Art in Lviv.
Good news, everyone! Kai Stänicke's short film for "Gay Goth Scene" has won the "Tadgell's Bluebell Honor Award", being named "Best Short Film About/For Youth" at the 16th Auburn International Film Festival for Children and Young Adults.
Their second and third albums — Mississauga Goddam and Awoo — weren't as pointedly sexual as their first, but they did still hit on queer sexual-political themes of neurotic bodily obsession ("I Need Another Enema"), the excitement of shared oral pleasure and growing up closeted in your own hometown.
Their last album (2009's Origin:Orphan) was inarguably their most orchestrally ambitious; using triumphant horns, choral arrangements and grand scores to explore devotion to emotionally-absent men and how whoredom complicates identity.
The Hidden Cameras — who have a penchant for performing in bombed-out churches, abandoned theaters and soccer fields — are currently touring. Gibb had wanted to turn Origin:Orphan into a theatrical production in Berlin where he lives, but it's unclear whether that ever happened.
The clip is now available stateside.