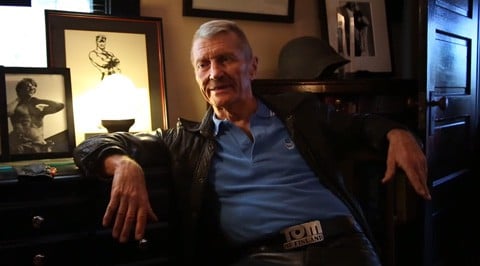 Starting on November 2, The Museum of Contemporary Art, Los Angeles (MOCA) is presenting the first American museum exhibition devoted to the art of Bob Mizer (1922–1992) and Touko Laaksonen, aka "Tom of Finland" (1920–1991), two of the most significant figures of 20th century erotic art and leaders  of an emerging post-war gay culture.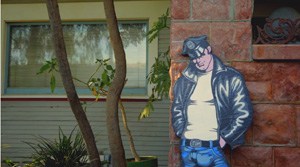 As part of the exhibition, MOCAtv has produced a short film about the Tom of Finland foundation, which sits on a quiet, tree-lined street in the Echo Park neighborhood of Los Angeles. The foundation is located in a house where 'Tom of Finland' lived with Foundation co-founder and former Bruce Weber model Durk Dehner.
Dehner met the artist after seeing an illustration that was hanging at NYC's Spike bar, and Dehner met Tom and became his caretaker, and one of Tom's muses.
MOCA is allowing Towleroad readers to be the first to see this film, which features Dehner and foundation Vice President S.R. Sharp discussing Tom's work, how he got his name, and why he moved to Los Angeles.
The home is open to the public as well.
Check it out, AFTER THE JUMP…