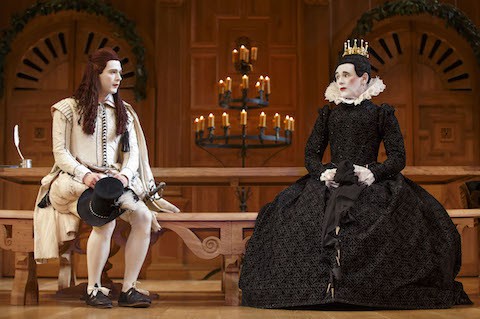 BY NAVEEN KUMAR
Performed in repertory by an exquisitely skilled company of actors, including two-time Tony Winner Mark Rylance, Richard III and Twelfth Night opened on Broadway November 10th at the Belasco Theatre. Transferring from London's West End and marking the debut of Shakespeare's Globe on Broadway, the productions make careful efforts toward material authenticity—including meticulous period costumes, candlelight, and of course, male actors in the female roles.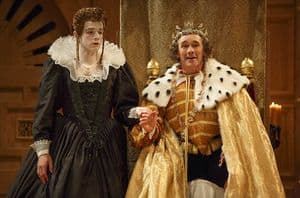 Director Tim Carroll, previously an associate director of Shakespeare's Globe, brings a fantastic vitality and freshness to these productions, making them into popular entertainment—the most authentic achievement of all. Whether modernized with movie stars or presented with Elizabethan trappings, good Shakespeare should feel both insightful about the human condition and as engaging as a Netflix marathon of your favorite nighttime soap—as these productions do much more often than not.
A frequently celebrated actor on Broadway in recent years and a renowned Shakespearean, Rylance is a pleasure to watch as the title character in Richard III, a deformed Duke determined to take down every obstacle between himself and the throne. Where actors with less experience tend to get lost in Shakespeare's language or count on it to do most of the heavy lifting, Rylance is bold, specific, and grounded in a way that reveals the inner lives of his characters. On top of being well studied, his interpretations also happen to be wildly entertaining.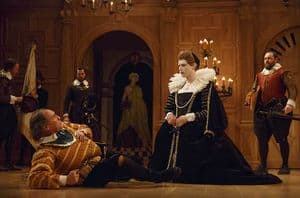 Rylance's Richard is far from the monstrous villain with bloodthirsty ambition played often by many actors—including Kevin Spacey in Sam Mendes' production at BAM last season. In this production the Duke of Gloucester is still a sociopath (there's no getting around that), but one of a different sort—he is by turns wildly insecure, cloying, flippant, and more than a bit silly.
While his treachery out of weakness is both compelling and often funny to watch, by the time heads start rolling (off stage for the most part, to be fair), this Richard doesn't seem quite ambitious enough to be the one behind the guillotine—nor do the weight of his actions seem to fully register with him. Rather, the tragic stakes of this production rest on superb performances by Joseph Timms as Lady Anne (whose husband and father Richard murders before wooing her to be his wife) and Samuel Barnett as Queen Elizabeth (most of whose family is also murdered on Richard's orders).
Anne and Elizabeth are the play's emotional registers by design, and Timms and Barnett are masterful in their carefully stylized portrayals. With faces painted pale white and smooth gaits by which they seem to float across the stage, their every move and expression is deliberate and captivating.
The same actors play twins in the comedy of Twelfth Night, with Barnett as Viola (again in a female role) and Timms as her brother Sebastian. When the play opens, the twins are separated in a shipwreck far from home, each believing the other drowned. Viola disguises herself as a young man named 'Cesario' for her own protection and goes to serve the Count Orsino (Liam Brennan). Cesario is sent to woo Olivia (Mark Rylance) on Orsino's behalf, a lady in mourning for the death of her father and brother. Olivia balks at Orsino's advances, but finds herself immediately smitten with Cesario (aka Viola, who is herself in love with Orsino). We've all been there.
Rylance reprises his role as Olivia from Carroll's 2002 Globe production, employing the same smooth gait and deliberate physicality as the ladies of Richard's court, though with a bit of exaggerated flair. Like his Richard, Rylance's Olivia is a pleasure to experience on stage—his skill and prowess unmistakable. She is emotional, unpredictable, and very much alive. It is perhaps a testament to Rylance that his Olivia is more desperate in love than she might be were she not quite so much older than Cesario.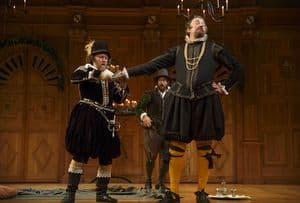 But, it's Barnett as Viola and Paul Chahidi as Maria (Olivia's gentlewoman, and a member of the troublemakers who assemble the comedy's secondary plot) who are this production's MVPs. Barnett navigates his portrayal of a female character disguised as a man with extraordinary precision and a magical sort of grace that's nearly impossible to look away from. Chahidi's Maria has the impeccable comic timing of a classic old-school comedienne.
The cast of Twelfth Night also includes a charming Stephen Fry as Malvolio, Olivia's steward and victim of a humiliating plot hatched by her cousin Toby, Maria and other members of the household. That Malvolio, so often a clear bad guy, deserves our sympathy in Frye's hands drives home a clear point made by both productions: everybody's human—especially in Shakespeare.
Recent theatre features…