Chcago Cubs owner Pete Ricketts, a Nebraska Republican gubernatorial candidate who is running against Annette Dubas (an outspoken supporter of marriage equality), is under fire from a conservative opponent who is using the Cubs' sponsorship of LGBT pride as a tool to take him down.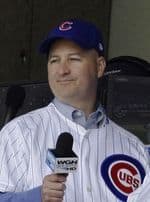 Ricketts agrees with conservatives and is trying to disavow himself of the team's position, blaming it on his sister Laura, an out lesbian who is also a Cubs co-owner.
For Ricketts, the fact that his sister — Laura Ricketts — is a key supporter of gay marriage hasn't changed his belief that marriage is meant for a man and a woman.
He not only opposes same-sex marriage, but he said he also opposes a longstanding decision by the Chicago Cubs to sponsor a gay pride parade in Chicago. The Ricketts family owns the baseball team.
The Cubs' connection to the parade raised objections from a fellow Republican candidate, who said Thursday it called into question Ricketts' gay-marriage opposition.
Republican Beau McCoy said that Ricketts should be held responsible for the fact that the Cubs are supportive of the gay community.
Ricketts said he had no involvement in that decision. He also said that despite some "difficult conversations" in his family, he and his sister remain family.
"My sister is gay. I love her, but I disagree with her on this issue," said Ricketts, an Omaha businessman.