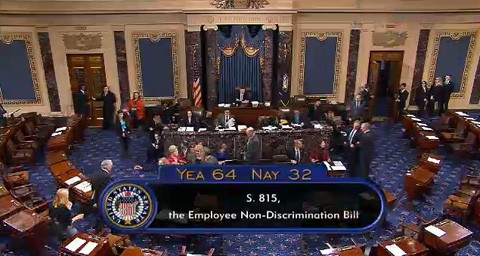 The U.S. Senate has approved the Employment Non-Discrimination Act (ENDA) in an historic 64-32 vote.
Ten GOP Senators voted for ENDA: Ayotte, Collins, Flake, Hatch, Heller, Kirk, McCain, Murkowski, Portman, and Toomey.
ENDA prohibits discrimination in hiring and employment on the basis of sexual orientation and gender identity.
The bill now goes to the House where it will face a much tougher battle. House Speaker John Boehner has expressed his opposition to the legislation so it's unclear if it will even get a vote.
"The Speaker believes this legislation will increase frivolous litigation and cost American jobs, especially small business jobs," said Boehner's spokesman earlier this week.
Senate Majority Leader Harry Reid yesterday expressed hope in getting the legislation through once it passed the Senate.
Supporters have been trying to pass ENDA in one form or another since 1994 when it was first introduced by Senator Edward Kennedy and Rep. Gerry Studds.