Yesterday we reported that the European Court of Human Rights ruled that persecuted gays from Africa have grounds for asylum in European Union member countries.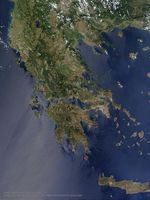 But there's more, the WSJ reports:
A separate ruling was issued by the European Court of Human Rights, which is separate from the EU and has jurisdiction over 47 countries, including Russia and Turkey. That court said that countries that legally recognize relationships outside marriage, such as civil unions, must extend that option to same-sex couples. That ruling could force legal changes in Greece and Lithuania, which currently permit civil unions only for heterosexual couples…
The civil union judgment was prompted by a case brought by two Greek gay couples:
The Strasbourg-based court said that the Greek government failed to explain convincingly why such unions shouldn't be open to same-sex partnerships. The court noted that, in 17 of the 19 European countries with legal alternatives to marriage, those unions also included gay couples.
"The decision is a small revolution. Greece has finally lost the case and the Greek government is being dragged into becoming European," said Grigoris Vallianatos, one of the complainants. "The issue of gays is no longer one of sex hidden behind the bushes, rather something that relates to the Greek family."