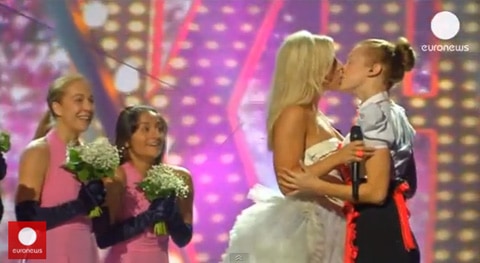 The organizer for the Eurovision Song Contest has sent a letter to the two state-run television stations in Russia raising concerns about the country's anti-gay laws if the contest were to be held there, according to the Hollywood Reporter:
"We decided to make that step because several bigger countries have expressed concerns about safety," Thomas Shreiber, head of entertainment programs at the German TV station NDR and a member of the committee, was quoted as saying by Stern.
The letter calls on the two Russian stations to answer several questions regarding creative freedom and safety of Eurovision participants and fans in case Russia were to host a contest.
Under Eurovision regulations, if a Russian participant wins the next song contest, which is to be held in May 2014 in Copenhagen, the following year, Russia would host the contest. Some European counties are worried that the Russian law "against propaganda of homosexuality among minors," which came into effect earlier this year, could lead to safety problems for gay participants and spectators, should a contest be held in Russia.
And there's plenty of so-called "gay propaganda" in Eurovision's contest, as evidenced by Finland's 2013 entry "Marry Me" last year.
Check it out, AFTER THE JUMP…