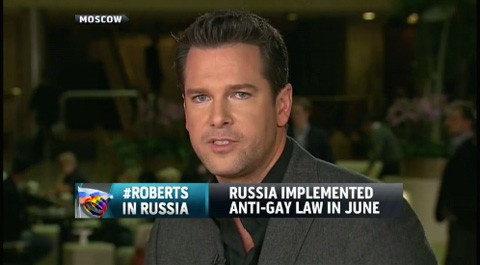 MSNBC and NBC have been bookending coverage of Thomas Roberts' trip to Russia to host the Miss Universe Pageant with discussion of Russia's anti-gay laws and Roberts' experience as an openly gay host there, perhaps in an effort to blunt criticism he has received for accepting the hosting gig at the Trump-owned pageant.
So far, there have been no major revelations in terms of the laws having an effect on Roberts on a personal level and he continues to acknowledge the "privileged" position he is in compared to that of Russian LGBT citizens and defend his decision to host the pageant in an interview on Today.com. Yesterday, Roberts posted an interview with a Russian journalist, Anton Krasovsky, who was fired after he came out as gay on the air last August.
Roberts gave an interview to Savannah Guthrie on Today, and in a separate preview segment on MSNBC yesterday.
Watch both, AFTER THE JUMP…
Roberts also gave an interview to Agence France Presse blasting Russia's anti-gay laws:
"The Russian laws obviously are a dark time and a dark chapter in LGBT history here. They're seeking a solution to a problem that doesn't exist and meanwhile it causes new problems because it allows people to abuse and hurt and vilify the LGBT community under the guise of some propaganda law that's just ridiculous….These laws represent the fact that the government is seeking a solution for a problem that doesn't really exist. There really is no reason to demonise the LGBT (lesbian, gay, bisexual and transgender) population. In this atmosphere here we're seeing the problem with homophobia being condoned and these laws actually allowing people to be victimized."
He told AFP that he did not know if his sexual orientation would be mentioned during the Miss Universe broadcast:
"If it does (come up) — great. If people and the viewers at home that are watching learn more about me and know that I'm married and my husband is here, I think that's fantastic. I don't know if I'm here to promote gay rights, I think I'm here to promote that people like me deserve equal rights, because we are no different than any one else."
Watch, AFTER THE JUMP…
Visit NBCNews.com for breaking news, world news, and news about the economy