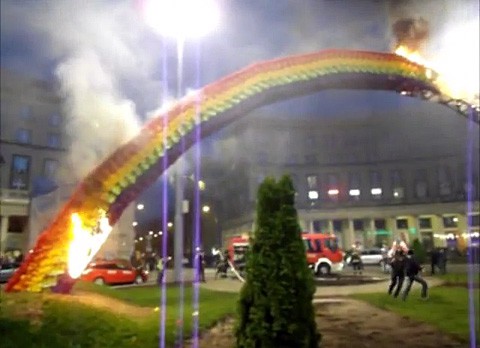 A massive rainbow public art sculpture which was not intended as, but has become, a symbol of gay rights and diversity, was torched earlier this week by far-right nationalists.
Watch the video, AFTER THE JUMP…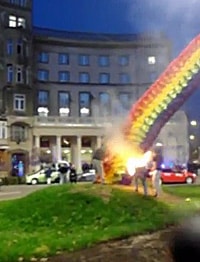 Al Jazeera reports:
Warsaw's main boulevard, Marszalkowska, and neighbouring areas turned into a war zone on the Independence Day March on November 11. Row after row of mostly male youth marched along the boulevard spilling into sidewalks and side streets.They carried flags with Celtic crosses and white power fists, chanted slogans with visceral force and filled the centre of the city with fire-cracker smoke. The parade, with the number of protesters set at around 15,000, was organised by two of the most prominent far-right organisations in the country, the All-Polish Youth and the National-Radical Camp.
Few passers-by dared to stick around and watch the spectacle.
Within one hour of the start of the demonstration, participants had attacked two squats in the centre of Warsaw (Syrena and Przychodnia) and burnt down a rainbow installation in Plac Zbawicela, an artistic installation standing for diversity.
The NYT reported on the sculpture back in March, noting that already the rainbow had been set on fire four times and come under fire from right-wing groups and politicians:
What was intended as a work of public art without an overt political message beyond the need for inclusiveness, according to the artist behind it, has instead become part of a culture war over homosexuality that has been brewing in one of Europe's most Catholic countries…
…Stanislaw Pieta, a member of Parliament from the conservative Law and Justice Party, the main opposition faction in Poland, called the placement of the rainbow on a grassy circle in front of the church a "disgusting gesture, offensive to Catholics." He added, "It's a provocation."
Although city officials and the artist, Julita Wojcik, say the rainbow is not a monument to gay rights, both its supporters and opponents find they can agree on what the rainbow symbolizes.
Watch the video, AFTER THE JUMP…