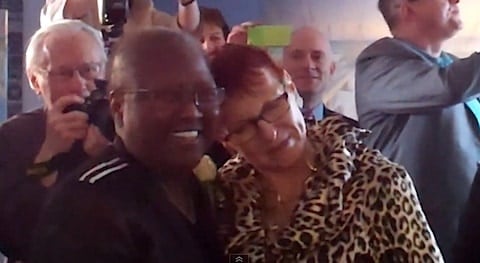 Illinois saw its first same-sex marriage as Vernita Gray and Pat Ewert married on Wednesday in Chicago.
As we reported earlier this week, Illinois' same-sex marriage law goes into effect in June but Gray and Ewert were allowed to marry early because Gray is terminally ill. A U.S. District Court in Chicago asked the Cook County Clerk to issue an expedited marriage license for the couple after a motion was filed by Lambda Legal and the ACLU of Illinois.
Watch Gray and Ewert's ceremony, AFTER THE JUMP…
The AP reports:
The two made it official Wednesday in front of more than 20 friends at their high-rise home on the city's North Side. A Cook County judge officiated, and a close friend who deemed himself the "flower girl" tossed red rose petals and the couple kissed several times.
They were pronounced wife and wife.
"So happy, so incredibly happy," Ewert told The Associated Press after the wedding. "We feel so blessed to have this honor bestowed upon us. I love my partner, my wife now, more every single day."
When Illinois legalized gay marriage earlier this month, it was bittersweet for the couple, in their mid-60s. They feared that Gray might not live until the law would allow them to wed. They filed a lawsuit, and a federal judge allowed the two women, in their mid-60s, to get an expedited marriage license.
The mood was cheerful and festive Wednesday; Ewert wore a leopard print shawl that belonged to Gray's mother and Gray donned a dark silky jacket. A friend sang Etta James' "At Last." The couple signed papers at the ceremony which was attended by many of the city's gay rights activists; Gray has long been involved in the movement.