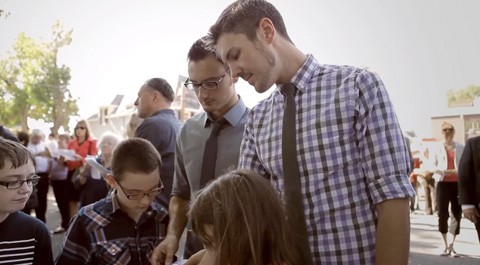 On October 1st, we reported that Lambda Legal filed a lawsuit on behalf of three gay couples challenging West Virginia's ban on same-sex marriage.
One of those couples, Justin Murdock and his partner William Glavaris, are profiled in a beautiful new video from Fairness West Virginia. Justin and Will are based in Huntington and Justin is a board member of the organization.
Watch, AFTER THE JUMP…
Fairness West Virginia writes:
Faces of Fairness is a groundbreaking project is the first of its kind in West Virginia and is comprised of a touring photography exhibit, a documentary film, and a web-based archive. The participants articulate the many issues that face LGBT West Virginians including second-parent adoption rights, medical benefits, hospital visitation rights, employment and housing discrimination, advocacy and political representation, transgender rights and protections, marriage equality, and bullying.
Currently West Virginia is the only state in the southern United States that has been able to defeat and defend against a constitutional amendment that would define marriage as a union between one man and one woman. However, it is still perfectly legal in West Virginia to deny employment or housing to an LGBT person based on their sexual orientation or gender identity. It is also still legal to deny medical benefits to same-sex partners and their children.