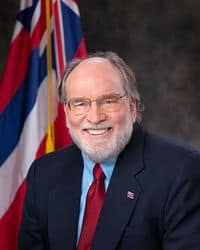 Hawaii Governor Neil Abercrombie plans to sign the Hawaii marriage equality bill this morning at 10 am HST/3 pm ET. You can watch it live HERE. A large crowd is expected.
Hawaii will be the 15th state in the country to legalize same-sex marriage and the law is expected to take effect on December 2.
In the past three weeks, two other states have also become marriage equality states, New Jersey and Illinois, the 14th and 16th, respectively, if order is determined by when the laws take effect.
However, expect challenges before then. We've already reported on wingnut lawmaker Bob McDermott and the lawsuit he has filed which claims that in 1998 when Hawaii passed a constitutional amendment voters thought they were voting for one man/one woman marriage rather than allowing the legislature to decide on what constitutes a marriage.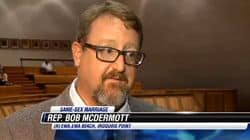 KHON says that Circuit Judge Karl Sakamoto is expected to rule on that this week:
…opponents are counting on Circuit Court Judge Karl Sakamoto to stop the law from taking effect. On Thursday, he's expected to rule on a court order that could stop the state from issuing wedding licenses for same-sex couples on the basis that the people already voted against same-sex marriage in a constitutional amendment in 1998.
"The vote the people made back in 1998 when they basically ratified the amended Constitution by virtually 70 percent in favor," said John Dwyer, attorney for Rep. McDermott.
If the judge grants the court order then another trial will be scheduled that could essentially strike down the same-sex marriage law.
But the state Attorney General says the 1998 constitutional amendment gave the legislature authority to change the law and so the same-sex marriage will be upheld.
Watch a report on the bill's passage in the Senate, AFTER THE JUMP…