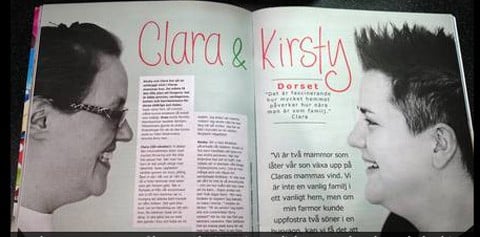 Swedish furniture manufacturer Ikea has pulled a story about a lesbian couple from the Russian edition of its monthly magazine, The Guardian reports:
The December issue of the magazine, which will be distributed in most countries in which Ikea operates, contains a long feature about the lives of Clara and Kirsty, a Dorset-based lesbian couple and their Ikea-filled interiors. "We're two mums bringing up our baby boy in Clara's loft," says Kirsty in the story. "We're not your average family in your average home, but if my nan can raise two sons in a tiny caravan, we can make it work in our little loft."
Ikea said the removal of the article was to avoid prosecution under Russia's bans on 'gay propaganda':
A spokeswoman for Ikea confirmed to Sweden's Aftonbladet newspaper that the article had been changed over fears it could fall foul of Russia's gay propaganda laws. "That's the reason why Russia has another article," she said. "We have two guiding principles in the communication we distribute from Ikea. The first is home interior design. The second is following the law."
The WSJ adds:
Last year, the Swedish company—often seen as a corporate symbol of a Scandinavian nation known for its tolerance—was criticized for pulling back on marketing that may have ruffled sensibilities in particular markets.
In September 2012, for example, IKEA deleted a photo from its Russian corporate Web page showing four young people in balaclavas. The photo could have been seen as a gesture of support for the jailed members of Russian punk group Pussy Riot. The deleted photo was part of a Russian marketing campaign that included a photo competition in Russian MEGA shopping malls, which receive about 200 million visitors per year.
Less than a month later, the furniture company again caused controversy when it digitally removed women from versions of the IKEA catalog distributed in the Saudi Arabian market. The move was made because of cultural sensitivities, but Saudi Arabia's reputation for its treatment of women is seen as out of step with IKEA's commitment to equality, and the company quickly apologized for its action.